IEA: Energy efficiency plays notable role in global economic recovery packages
(ACEEE blog, 3 Dec 2020) Energy efficiency is expected to attract less investment and employ fewer people this year because of COVID-19 and the resulting recession, but it is still figuring notably into global economic recovery packages, according to the 2020 edition of the International Energy Agency's (IEA) annual Energy Efficiency report released today.
The new report also finds that efficiency made substantial contributions to offset 2019 increases in greenhouse gas emissions, second only to renewable energy.
Economic recovery packages
According to the IEA, more than $100 billion of clean energy-related recovery funding has been committed worldwide, of which more than half is going to efficiency-related spending. Europe dominates this spending, with more modest spending so far in Asia and North America. The largest share of investment is going to buildings efficiency, with major investments also in electric vehicles and urban infrastructure. as shown in the figure below.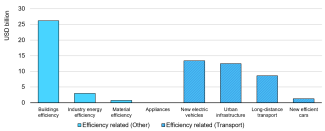 Announced public efficiency-related stimulus funding by measure. Source: IEA Energy Efficiency 2020.
IEA recommends further recovery investment in energy efficiency, because efficiency is typically labor intensive, creating jobs, and has a low cost per ton for reducing greenhouse gas emissions.
External link
ACEEE blog, 3 Dec 2020: IEA: Energy efficiency plays notable role in global economic recovery packages
---
More Related News
Green recovery